In June 2014 we adopted Sustainable Safety as our first policy. Here we will describe the five principles of Sustainable Safety. We'll start with Sustainable Safety's core principle: functionality.
Functionality is described in the Dutch SWOV's fact sheet as "a hierarchically structured road network" – but what does this mean? The Functionality element of Sustainable Safety looks at the full road network and determines traffic management by categorising our roads. Typically three road types are used for this classification, attempting to describe the function and purpose of the road (to determine the design parameters).
All roads must have a designation. The designation of road type is important as it dictates the type of walking, cycling and driving provision to be provided. Any discussion about infrastructure should start with looking at the road classification and how the road relates to the wider network it sits within. Knowing certain data such as traffic volume, speed environment and modal share will help to clarify the current road classification. This is particularly true for the biggest group which is the local access roads. A road classification can change with time, so an district access road may become a local access road particularly when modal shift is made to happen and reliance on the car for short journeys decreases.
Why is all this important to road safety? Knowing the road classification means we understand the fabric of the road. This must then inevitably be translated into a road layout. A recognisable design shapes user behaviour, creating a safer road environment for all. An environment must be instantly recognisable whether a road is for moving traffic or a place for people, whether heavy-duty cycling infrastructure is needed or a light-touch approach is sufficient. This way all road users are left in no doubt how to behave and the design will reinforce that as it provides all the clues, hints and necessary details and safeguards for vulnerable road users too. This means efficient and safe interaction can take place between all road users.
In the UK context, it is of utmost importance to identify short-cutting motor traffic (rat runs) and tackle those. This makes neighbourhood zones work properly and makes them safe for people.
In the following, we list the three distinctly different road types and explain their purpose. We also give local examples to make this relevant to Newcastle.
National roads
These types of road are designed to continuous, uninterrupted flow of motor traffic at relatively high speed. This means that this type of road has separate directions of flow, there is no crossing traffic and relatively homogenous group of road users (motor traffic only). Cyclists are not permitted on distributor roads, they cross them by means of a bridge or an underpass. Preferably, motor traffic would spend the largest part of a journey on distributor roads before entering onto a district access road for the purpose of accessing a destination. Examples for national roads are A1, A19 and A194 – forming a ring road around Newcastle and Gateshead.
Figure 1 – national road:

District access roads
These roads are meant to provide access to destinations, where people live, play, shop and work. In contrast to the national road the bicycle is now and intricate part of the carriageway design equation. Due to speed differences in cycle and car traffic, separate traffic streams are kept: the bike user is protected from motor traffic by being allotted dedicated safe space. Examples of district access road are A167 and the Coast Road and it becomes clear that much more must be done to protect cyclists from motor traffic on these roads.
Figure 2 – district access road: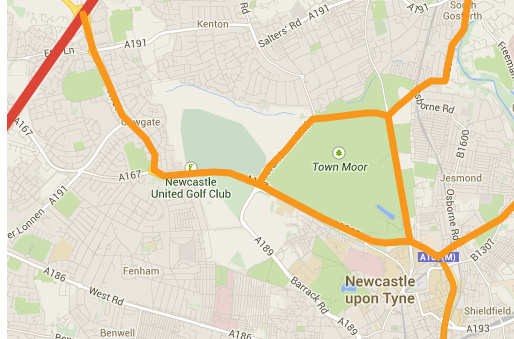 Local access roads
These types vary from neighbourhood roads to residential streets – and are generally places where people live, work and shop. They are intended to provide access to houses, and as such, all road users must be enabled to use them safely. The speed of motorised traffic must be kept low. Many roads belong into this group and it requires further classification. Examples are Gosforth High Street and other parts of Great North Road, New Bridge Street, Elswick Road but will also include many quieter neighbourhood streets. It is clear from this that much more consideration must be given to cycling on local access roads with a high movement function. The below map is looking at areas in Jesmond West of Osborne Road. It would be vital to identify and close down motoring short-cuts to define the neighbourhood zones and give streets back to residents.
Figure 3 – local access road: