City Centre Infrastructure Safari Walk
5th September 2015 @ 10:00

-

13:00

Free
After cycling the 7 Strategic Cycle Routes (SCRs) over the last two summers, we're completing our first series of infra safaris with Newcastle City Centre and we hope you can join us. We will meet outside the Central Station main entrance, at 10:00am. We will walk rather than cycle across the city centre and stop at different areas of interest to discuss the use of public space, the road layout as well as observe the movement of people and motorised traffic. The walk should not take longer than three hours. Join us for all or parts of it, or meet us afterwards for a coffee near the Civic Centre where the walk will finish.
The route we will be walking on the day is below, we will be heading clockwise round the route from Central Station: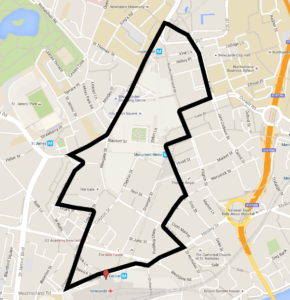 Please email us newcastle.cycling.campaign@gmail.com if you are coming so that we get an idea about numbers before the walk.
If you would like to discuss any areas along the route, but cannot make it to the event, we have set up a page on CycleScape for online discussion: http://newcastle.cyclescape.org/threads/2039
This year's infra safaris:
2 May – SCR 3 – Great Park
6 June – SCR 2 – West Denton
4 July – SCR 5 – Longbenton
1 August – City Centre
We will invite councillors from the City centre wards to join us on the day.
Newcastle City Council promises to create these sections of the Strategic Cycle Routes as well as cycling infrastructure in the city centre by September 2015:

The ten-year plan is to create the full set of all seven Strategic Cycle Routes:

Information on the SCRs we scouted last year, Gosforth, Newburn, Benfield (Heaton) and Walker is here.