Newcycling is Newcastle's cycling campaign. We are a constituted community group with 1,400 members, holding decision-makers to account over their policies to create conditions that enable cycling for everyone by building seven Strategic Cycle Routes into the city centre and an accompanying network of neighbourhood streets prioritising walking and cycling in the city's transport system.
We welcome the plans for the Ouseburn [PDF 12Mb]. We believe they are a first, and firm, step towards a more people-oriented environment and atmosphere in the Ouseburn. Of course, much more physical change is needed in the long-run when we have to continue, and further, the discussion about finding a better balance between allowing motor traffic flows and enabling walking and cycling accessibility and connectivity into and around the Ouseburn area.
For that to take place an area-wide approach is needed.
The focus streets of the DIY Streets project, shown in below illustrations, have the potential to link into the Strategic Cycle Routes SCR6 Benfield and SCR7 Walker and we would expect every opportunity to be taken to ensure this is the case. We believe looking, again, at the Stoddart Street contraflow to aid and improve cycle access is vital.
To enable cycling, clear and unambiguous infrastructure is required if motor traffic cannot be calmed sufficiently. This dedicated cycle infrastructure should, by default, be taken out of carriageway space (not the footway). In situations where cycling and driving share the same surface then the importance must be to a) reduce motoring speed and volume, b) remove conflict situations that create uncertainty by providing cycle bypasses, and c) create contraflows on one-ways to make the area permeable to cycling and provide continuous cycle access.
Most of these principles have largely been followed by the designers but could still be improved somewhat. The concerns we'd particularly like to raise are the two narrowed sections on Stepney Road, at the north end and under the rail bridge arches, which with some adjustment could be made less confrontational for cyclists.
Suggested improvements to the current designs
Please note the illustrations below that should help to visualise the comments we make.
Design 2 – we suggest to provide some 'bailout' space on the proposed build-out for people on bikes travelling north – although they have priority coming through the pinchpoint this is quite a long stretch, and uphill, and they may experience pressure from drivers behind them and possible impatient on-coming drivers going into the Ouseburn.
We would also recommend checking the width of the road – Transport for London draft standards suggest that a pinchpoint between 3.2 and 3.9m presents a significant safety risk. This is based on their view that with a narrower gap (under 3.2m) vehicles will not take the chance to pass, and with a wider gap (over 3.9m) there is sufficient room to get through. Until any redevelopment discussion commences space is limited here therefore possibilities may be too. The better solutions, of course, would be a full network management and equality appraisal which would undoubtedly result in disallowing private car drivers in one or both directions.
Design 3 – the current arrangement does not give the message that there is space for cycling here. Riding through the give-way sign to the build out may be misunderstood by waiting drivers, they then need to share the footpath with pedestrians and drop back into the road where there is still a pinch point. This puts to much conflict on all road users.
We want to be part of these discussions and would ask the project team to include us in their communications.
Illustrations
Focus streets, also showing areas of our suggested improvements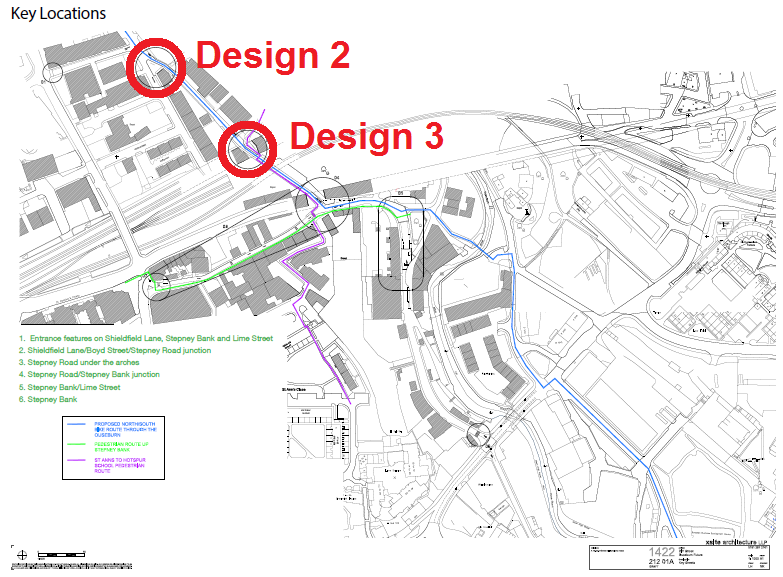 Design 2 current plan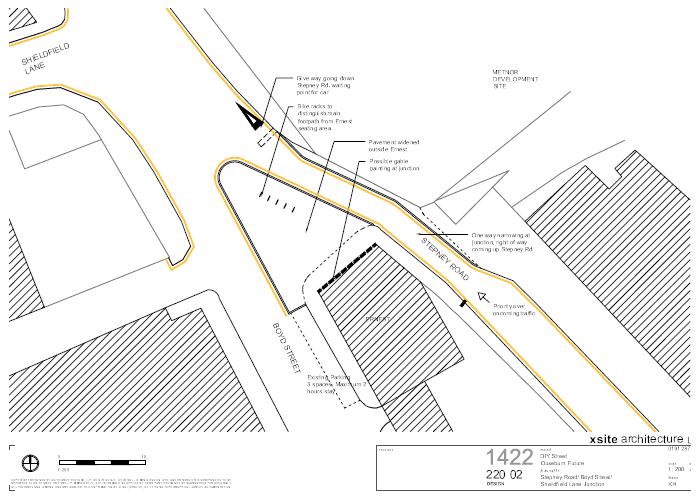 Design 2 suggested changes

Design 3 current plan

Design 3 suggested changes

Katja Leyendecker, chair Newcycling