Cycling advocates are left wondering what's going on in Newcastle's East end. Councillors there are leaving a gaping hole in the otherwise overwhelming support for Space for Cycling.
Newcycling joined the nation-wide Space for Cycling campaign last year and since then has worked diligently through members' action and using social media to gain political support for the cause. Their success is outstanding. Forty-seven out of Newcastle's 78 Councillors have said yes to Space for Cycling, putting Newcastle in the lead countrywide.
Katja, chair of Newcycling, says "It is fantastic, and hopeful for a fair transport future in Newcastle, to note that Labour – as the main party running the council – has many senior Councillors supporting Space for Cycling principles 'creating conditions to enable everyone to cycle, everywhere'. We also gratefully thank Liberal Democrat councillors too for clearly expressing their will to enable city cycling.
"Looking at the map it is interesting to see that support radiates out from the central core with Westgate (city centre), Ouseburn and the Jesmonds fully supportive. The East end however remains barren of enthusiasm to provide for cycling; the map clearly highlights that to us.
"This is particularly strange. After the mysteriously shelved Welbeck Road project which also meant losing nearly £200,000 of funding, Councillors in Walker and Walkergate were quick to re-assure us they weren't anti-cycling but rather only against that choice of route. But discussions about an alternative route have ground to a halt. So what is going on in the East end?
"We'll cycle the route as part of our infrastructure safaris in September. Maybe the Councillors there will care to come along and discuss their plans with us. Or maybe they can attend the Civic Cycle Ride – a celebratory bike ride on 27 September."
References
Space for Cycling ward map https://newcycling.org/space4cycling/wardmap
Space for Cycling national map http://www.ctc.org.uk/campaign/space-for-cycling/space-for-cycling-your-councillors-views
Welbeck Road https://newcycling.org/news/20130915/mystery-mounts-walkers-bike-lane-controversy
Walker infra safari https://newcycling.org/events/20140416/scr-infra-safari-scr7-walker
Civic Cycle Ride https://newcycling.org/events/20140727/civic-cycle-ride
= = = CONTACT = = =
Contact us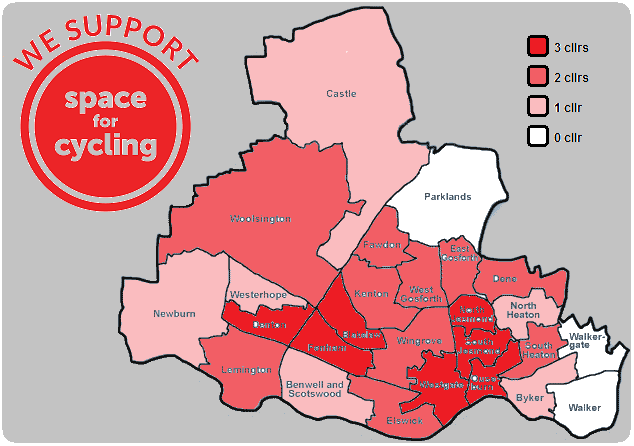 Progress made since May 2014