In the future, we would like to see Acorn Road fully pedestrianised along its entire length from Osborne Road to St George's Terrace. It should be permeable to walking and cycling and should filter out vehicle traffic. This hands space back to people, allowing social interaction and cleaner air and thus creating a welcoming street for shoppers who would feel comfortable in spending longer periods of time on it. Pedestrianisation would bring about a step change towards space-fairness: pedestrians and cyclists have been found to spend more in local shops than drivers. Space-fairness is currently not reflected in our shopping areas, which give priority to customers arriving in cars.
Note: we'd recommend a network assessment to look at knock-on effects for car driving and car parking be carried out. And a good look at the design options for the adjoining side streets would be needed too.
In direct reply to the consultation options:
Of the two options presented we unequivocally favour Option 1 as it will be much easier and safer for people of all ages and abilities to move around the street and use the shops. It would be prudent however to assess, or at least monitor, traffic flows on adjacent streets.
Options 2 is not an option. It does not present a change in how the public realm operates and would remain dominated by chaotic vehicle movements. It would mean money is wasted.
END
_________________________________________________________________
Acorn Road street view courtesy of google.
_________________________________________________________________
Newcastle City Council option details:
_________________________________________________________________
Replicated from their external websiteLetsTalkNewcastle
Acorn Road cycle-friendly shopping area
Included in the Cycling City Ambition Fund is up to £350,000 to spend transforming Acorn Road into a cycle-friendly shopping area. This would mean making changes to the road layout to reduce traffic and improving the environment for people walking or cycling there. We have two illustrations that we need your views on. Illustration 1 shows Acorn Road as a one-way street with widened pavements and safer crossings. Illustration 2 shows the current two-way system, with improved crossing to increase safety.
We would like your views on the illustrations, to tell us which would work best in Acorn Road.
Illustration 1: Approx cost £350,000
A one-way system with cycling contra flow and raised central area to keep footpath and roads level and raised junctions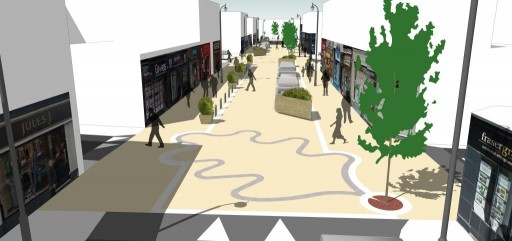 Here we can see Acorn Road as a one-way street, with a raised central area which means the footpaths and the roads are level – making it easier for cyclists, pedestrians, wheel chair users and parents/carers with pushchairs to get around. A 20mph speed limit would be introduced, slowing down traffic in this area, making it more appealing for cyclists. A one-way street means we can widen the pavements – allowing more public seating areas, space for pavement cafes and make the area more attractive with landscaping. With reduced vehicles numbers, less vehicle pollution and the public space enhancements, this would create an area for shoppers, visitors, residents and cyclists to all enjoy. Car parking will be reduced by 10 spaces, and there will be no vehicle access from west to east of the road (St Georges Terrace to Osborne Road), but cyclists would eb able to travel in both directions.
Illustration 2: Approx cost £189,000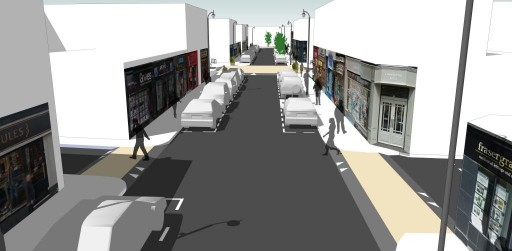 Keeps the current two-way system with raised crossing at junctions and side roads.
Here we can see Acorn Road with the current two-way system. This illustration shows improved safety measure in place, such as the raised junctions which means the crossings are level with the footpath, making it easier for pedestrians, wheel chair users and parents/carers with pushchairs to get around. We would also reduce the speed on this road to 20mph, making it a safer choice for cyclists. With the two-way system, the numbers of vehicles using the road will stay the same and you will still have the same vehicle access. These improvements mean car parking will be reduced by 8 spaces.
Further improvements to St George's Terrace
We will also make improvements to the shopping area at Osborne Road/St George's Terrace. This will help expand the benefits of Acorn Road's improvements by linking both shopping areas together. At St George's Terrace we will install a raised junction – making the footpaths level with the crossing – so it is easier for wheel chair users and parents/carers with pushchairs to get around. This is in addition to the improvements illustrated for Acorn Road.
More detailed information please call our transport development team on 0191 277 7541 or email acornrd@newcastle.gov.uk